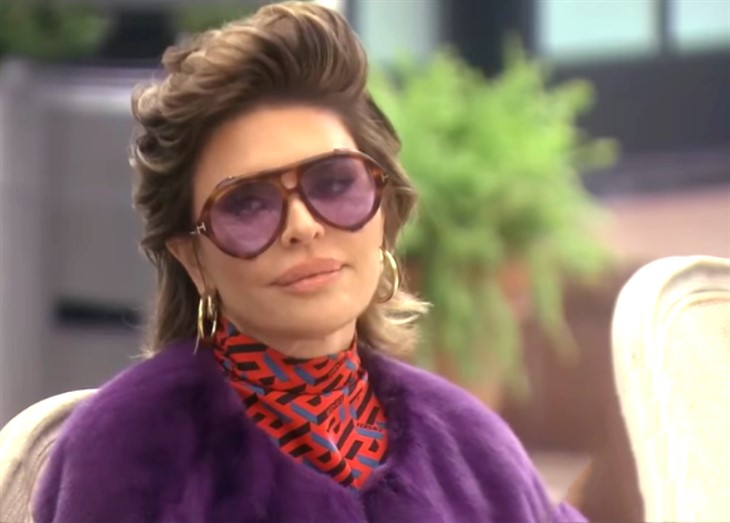 Days Of Our Lives star Lisa Rinna (Billie Reed) also has fascinated fans on Real Housewives Of Beverly Hills (RHOBH) for many seasons. And Lisa has become known for loving to stir the pot and spill the tea! For instance, Rinna recently clashed with Kathy Hilton.
Find out what role Kendall Jenner's tequila played in the Beverly Hills battle. And learn why Kathy and Lisa just can't seem to get along. Get all the details below!
Days Of Our Lives – Lisa Rinna Hypes Kendall Jenner's Tequila
Want a recipe for mischief? Take one brand of tequila. Make it the one that Kendall Jenner produces. Hand off to Days Of Our Lives star Lisa Rinna, and turn on the Real Housewives cameras. And then let the fun begin!
It all went down on Real Housewives Of Beverly Hills most recent episode. And in some ways, it seemed like a Days Of Our Lives plot. Because Rinna, 59, knew that Kathy Hilton would want her Casa Del Sol tequila showcased, Lisa deliberately turned the spotlight on Kendall's 818 Tequila, noted Page Six.
"Can I try a little shot of that 818 Tequila? I want to see what that tastes like," the Days Of Our Live star requested at the Real Housewives cast gathering in Aspen. And Lisa explained, "I just want to try it because it's my friend Kendall Jenner's tequila." But although Rinna came up with an excuse, she stirred the pot for trouble with Hilton.
Kathy Hilton Calls Lisa Rinna 'Disgusting'
The Days Of Our Lives actress insisted that she just wanted to try Kendall's because she never sampled it. But her fellow Real Housewives star Kathy Hilton clearly didn't believe that excuse. And Rinna also reportedly knew that the bar offered a generous amount of Hilton's Casa Del Sol.
As a result, Kathy got furious with Lisa for snubbing the Hilton brand. And Rinna talked in a confessional about her mischief. "Of course they have Kathy's tequila," said Lisa about the bar's menu. "And I have a sneaking suspicion that Kathy put it there herself. Kathy made sure that tequila was there and good for her."
However, the Days Of Our Lives star didn't feel done with her mischief-making on Real Housewives. And she began gushing about the deliciously sweet taste of Kendall's 818 Tequila. As a result, Kathy felt so upset that she exclaimed, "I cannot f–king believe what she just said." And another exchange saw Lisa trying to defend herself against the 63-year-old socialite.
"I'm trying the Kendall Jenner tequila because I'm curious," announced Lisa. And Kathy used her full-strength brand of sarcasm in her "Thank you" to the Days Of Our Lives star. Seemingly realizing she might have gone a tad too far, Lisa then claimed she loved Hilton's tequila brand. But Kathy left. And she parted with the exit line, "I'm leaving, and don't say anything because if she brings that up, that's too f–king disgusting."
Tell us what you think. Do you feel that Lisa Rinna went too far in trying to steal the spotlight from Kathy Hilton's tequila? And do you want to see Lisa Rinna return to Days Of Our Lives this season? After you share your views, check back on our site for more Days Of Our Lives news.